Little Flower Parish
COVID-19 Update
Coming to Mass?
You MUST wear a mask to receive Holy Communion. (Archdiocese regulation.) We do not have a supply of masks, so bring your own if you wish to receive Holy Communion.
If you would like to be on the Sunday Mass list, call or email Gadia, our Office Administrator by Thursday that week (office hours are currently restricted to Tuesdays and Thursdays). Click here to email.
After your turn, contact the office again to be put on the wait list for a future Sunday Mass (by Thursday). Parishioners on the "every week" list should also wait to receive acknowledgement they can attend on weekends.
Little Flower parishioners May attend weekday masses without invitation.
---
Novena to the Little Flower

Let's join in nine days of prayer together leading up to the Feast of St. Therese of Lisieux, our patron saint on Oct. 2.
Click here to get a copy of the Novena.
---
A message from Birthright Regina

During this difficult time, we continue to provide love, support, and resources to those facing unplanned pregnancies or in need of help during a difficult pregnancy situation.

We are always counting first and foremost on your prayers. We also appreciate your financial support via cheque, cash, or online donations (e-transfers can be sent to the email below), as well as your donations of baby and maternity items ... Read the full letter

Leaders needed

Do you have a gift for hospitality? Are you looking to be part of a small community of young adults who can come together around a shared interest? (Jogging? Dancing? Movies? Art? Parenting?) If so, then the Office of Youth and Young Adult Ministry needs you! We are looking to create a wide variety of small groups for young adults, but we need people willing to commit to leading for a period of 8 weeks. Each group will have a social/shared interest component and a faith component. We will help with all of it! All we need is your willingness to serve.

If you are interested, email oyyam@archregina.sk.ca

---

Source

Open to Grade 9 to University students. Starts @ 7 p.m. please visit our FaceBook page www.facebook/SourceRegina for the
latest updates.

Talk - Adoration - Praise & Worship - Confession - Fellowship.
October 4 - Resurrection Parish
November 1 - Resurrection Parish
December 6 - Resurrection Parish
January 3 - St. Cecilia Parish
February 7 - Resurrection Parish
March 7 - Holy Family Parish
April 11 - Christ the King Parish
May 2 - St. Cecilia Parish
June 6 - Barn night

*Masks are required

Email Fraud Alert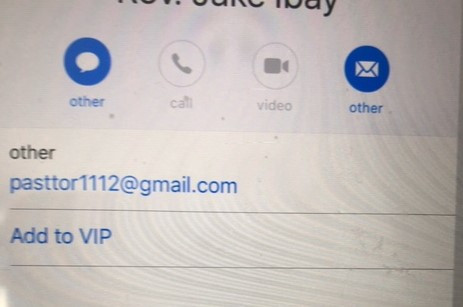 Please be aware that Fr. Jake is not emailing parishioners asking for "a favor." It is not his email address on the message. He would not contact parishioners this way, nor would any priest in our diocese.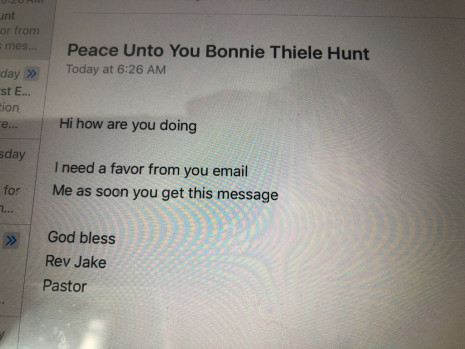 If you get such an email, and the person asks you for anything, contact the city police.
Archbishop Don will resume weekly videos later this summer.
---
---
Participate in Mass at home
Click here to link to Sunday Mass at Resurrection parish in Regina.
Archdiocese of Regina Pastoral Centre Re-Opens
As of September 1, the Pastoral Centre, including
the chancery offices, are open to the public. Staff are
working in the offices while following health directives re:
cleaning, physical distancing and number of people gathering/meeting. To enter the Pastoral Centre, please park
near the Broad Street main entrance door or the southeast
parking lot door, then ring the doorbell and staff will be
happy to welcome you into the building.

The Diocese Tonight

The Diocese Tonight is a "virtual family gathering" that celebrates the people who make up our diocesan faith family. Join us to laugh, learn, pray, sing and celebrate.

Stewardship of Creation

Ecumenical Stewardship Webinar for the Season of Creation

Thursday, Oct. 1, 2020 from 3 to 4:30pm

Register by emailing Nick Jesson at njesson@archregina.sk.ca
Maximum 100 participants. Zoom software is available for free at www.zoom.us

Archbishop's Appeal

We are very pleased to announce the start of the 21st Archbishop's Appeal. Our theme for this year's campaign is Hope in Every Season. You should begin receiving information and donation cards in the mail or email next
week. You are also invited to follow the campaign online through the website or by joining the Archbishop's Appeal
newsletter (see: archregina.sk.ca).

We encourage you to spend time offering thanks to our God and Father for all God has given, and prayerfully a donation that would not be burdensome but would express
your hope for the future of our church.
---
Fall Supper at Our Lady of Peace Parish
Drive through & Pick up
425 Broad Street North
Regina, SK S4R 2X8
Friday October 9th & 10th at 6:00 PM
$20.00 per meal, individually packaged
Advance ticket sales only, Call: Anita
at: 306-530-2370 or Dennis at: 306-530-2370
---
14th Annual Compassionate Healers' Mass
Holy Rosary Cathedral, Sunday, Sept. 27 @ 11 AM
Archbishop Bolen will preside.
We hope all parishes will take the opportunity to offer a blessing to the caregivers in their parishes: the personal care assistants, nurses, doctors, first responders and those caring for loved ones.
Sponsored by the Catholic Health Association of Saskatchewan.
---
Lay Formation Program
Sharing The Joy Of The Gospel!
We are currently accepting applications for our Fall intake. For more information on how to register or our COVID-19 health and safety protocols, please contact our Program Coordinator, Deacon Eric Gurash at 306.352.1651 ext 211 or email him at egurash@archregina.sk.ca
---
Visitation House
and the Queen City Marathon 2020
In the past 20 years of this marathon, Fr. John Weckend has raised almost $160,000 in support of Visitation House, an outreach centre for women in downtown Regina.
Although Fr. John has retired from running, he still organizes a team and continues this wonderful work. This year's marathon is virtual, but the needs of Visitation House are real. Click here to meet the Holey Soles Team and hear from Fr. John.
Ways you can donate:
Cash or cheque (payable to Visitation House) at your parish
e-Transfer to visitationhouse@archregina.sk.ca
Mail cheque to Visitation House, 900 - 11th Avenue, Regina S4N 0K7

---
Pro-Life Life Chain Oct. 4
Please join us as we prayerfully witness to the dignity and importance of all life on Sunday, Oct 4, 2:00 to 3:00pm. This year, we will be meeting on the West side of Albert St in the green space by the Large Grasshopper just off Leopold Cr. We will maintain physical distancing rules, grab signs and distance out along Albert St for our hour of prayerful witness to LIFE. Please bring your own hand
sanitizer and masks, if you wish to wear them. Due to COVID
rules, we are unable to offer food or drinks this year. Please
park on the West side of Albert St on or around Leopold Cr
and not in the Museum parking lot.

From home:

Your donation can be made to your parish by:

Pre-authorized direct debit
E-Transfer
By phone on credit card

Through the Archdiocese:

In the Comments box, include your name, envelope number, and tell the office how you want the money distributed (building fund, regular collection, food drive, etc.).

Click here to visit the Giving Page

In person:

You can also put your collection envelopes in a plain white envelope with "Little Flower Parish" on the outside and leave it in the parish mailbox outside the office door. We will record that donation as we normally would for the Sunday collection. Please use a cheque if possible, and not cash.

Job opening

A position is available in the Archdiocese of
Regina for the Regina Regional Marriage
Tribunal office for Case Instructor / Notary /
Office. This position is part-time with flexible hours. Involves compiling information for cases; conducting interviews with participants; as well as some general office duties. The candidate must be a practicing Catholic, attentive
to details, a good listener, able to work on their own and have a working knowledge of Microsoft Word.
Please submit your application and resume along with a recommendation from a Roman Catholic Priest or Deacon, to:

Rev. Thomas Nguyen

449 Broad St. N.

Regina, S4R 2X8

Applications must be received by September 28, 2020

Burns Hanley

Our store was temporarily closed And is now open on a limited basis. if you need to purchase or pick up an order, call 306-359-3606 between 10 am and 2 pm, Tuesday to Saturday to make an appointment.
May God Bless and Protect Us All.

Social Time After Mass - Suspended

Join us on the first, second and fourth Sundays of every month for coffee and refreshments -- often a light lunch -- and visit with fellow parishioners.

Unfortunately we've suspended hospitality until after the virus situation resolves.

Keeping a Mass Journal

EXPECT God to communicate with you

ASK: GOD, please show me one way in this Mass that I can become a-better-version-of-myself this week.

LISTEN:

- to the music
- to the readings
- to the prayers
- to the homily
- to the quiet of your heart

THE ONE THING will strike you ... write it down and pray about how you will incorporate that into your life this week.

Ready for Electronic Giving?

Now you can make your offering gifts by automatic transfer from your bank account to Little Flower. Read more information in this document.
From the Archdiocese of Regina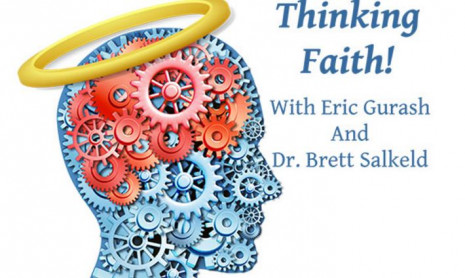 A podcast brought to you by the Archdiocese of Regina attempting to navigate this winding road of faith in Jesus Christ so that we might know him more intimately, love him more profoundly and together serve him more deeply in our daily lives.
Have a question you'd like them to address on the show? Email Eric at egurash@archregina.sk.ca.
Tashia Toupin

Social Justice Co-ordinator

Dr. Brett Salkeld

Archdiocesan Theologian

Deacon Eric Gurash

Director

Communications and Evangelization
Other blogs and sites worth following
Blessed is She

Improving prayer life.

Supporting sisters in Christ.

Using social media for good.

Made for Greatness

Men's events in Regina

Pope Francis on YouTube

Find the peace and joy that can only come from God.

FORMED.ORG

Bishop Robert Barron

Exploring the intersection between pop culture and faith.
Welcome To Little Flower
Roman Catholic Church

Little Flower parish was established in 1930, and today serves almost 500 families from our beautiful church near Regina's core.
Our mission: Little Flower, as a faith community, reaches out to all in service, compassion and love to fulfill our mission of proclaiming the gospel daily in word and deed.
Our Patron, St. Thérèse
I will spend my heaven doing good on earth. I will let fall a shower of roses.
Thérèse Martin entered a Carmelite convent at age fifteen. As Sister Thérèse of the Child Jesus, she lived a hidden life. She was just 24 when she died of TB. The world came to know her through her autobiography, The Story of a Soul.
She described her life as "a little way of spiritual childhood." She lived each day with unshakable confidence in God's love. What matters in life is "not great deeds, but great love."
"My mission — to make God loved — will begin after my death," she said. "I will spend my heaven doing good on earth. I will let fall a shower of roses."
This is the reason St.Thérèse's emblem is a crucifix covered with a profusion of roses. The celebration of her Feast Day is October 1.
Our Stained Glass Windows
The windows in Little Flower church were designed and manufactured by Rault Freres, of Rennes, France, and installed by Burns Hanley Co. Ltd. of Regina.